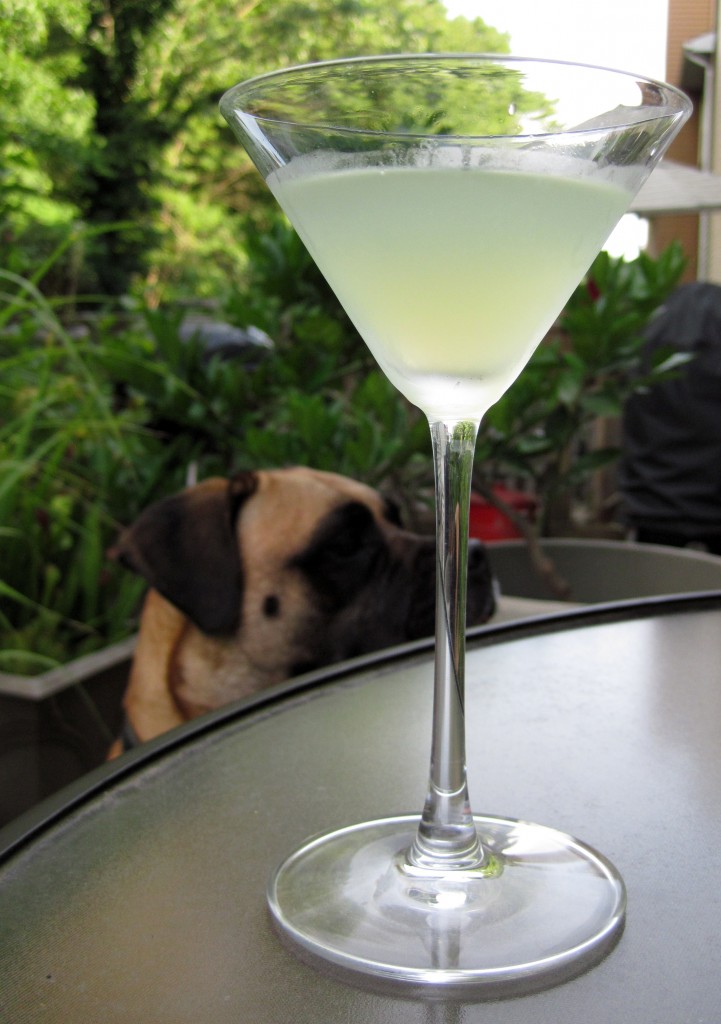 Greta hangs out with us boozehounds on the deck.
½ ounce gin (Plymouth or another London dry gin)
½ ounce Verveine du Velay
½ ounce Luxardo maraschino liqueur
½ ounce fresh-squeezed lemon juice
1 sprig fresh lemon verbena

Shake all the ingredients except the lemon verbena sprig with ice and strain into a cocktail glass. Rub a lemon verbena leaf around the rim of the glass and garnish with another leaf. If you can't find Verveine du Velay, green Chartreuse is a fine substitute.
Second (and third) bottle of new-to-me booze is in this cocktail and boy do we have winners. I subbed in green Chartreuse because I could find that at the ABC store (Oh Virginia, I hate your liquor laws so much) which I guess brings it back to the more classic version of this drink. They did, however, have the maraschino liqueur. \o/ I am going to have to make maraschino cherries if I can still find cherries at Whole Foods.
Again, I used Bulldog gin because it's what I've got. It's a London dry so it fits the recipe. I skipped the lemon verbena bit because lazy and didn't have any. I should add that to the plant list one of these days.
I was trepidatious about the Chartreuse after the Campari. In my reading, it would show up in the same sentence as Campari as an herbal liqueur. And we know how much I liked the Campari. However, this stuff was good! It's herbal in a completely different way that reminds me more of the herbal shampoo I've been using for the last decade that I've sadly recently developed an allergy to. *whinge whinge whinge* Anyway. On it's own, I find green Chartreuse to be sweet and have a delicious anise/licorice taste, especially on the finish. It's not overpoweringly licorice, but just enough to be noticeable. It actually reminds me a lot of NECCCO wafers, to tell the truth.
The drink overall had this amazing floral character. It was the mix of sweet and acidic that I love with this aftertaste of a bouquet in your mouth. I went and tasted the Luxardo maraschino liqueur by itself afterwards and that's where the taste comes from. Jason says it tastes like drinking perfume and I agree with that. A lot of times when you go to wine tastings, the pourer will talk about how the wine has floral nose but I have never found a wine that was like getting smacked in the palate with flowers like this liqueur. Not a bad thing though! It's a bit overwhelming on it's own, but in this cocktail? Marvelous.
Overall rating: fabulous summer cocktail. Will drink regularly.