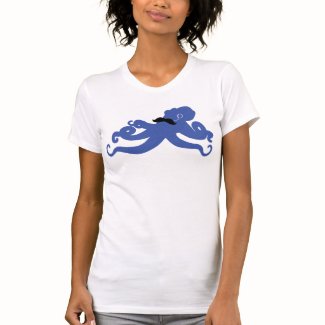 mustached octopus with a monocle shirt by kerrinsellstshirts
Look at this shirt! It has both an octopus and a mustache. There you go. Don't say I never did anything for you.
(Are mustaches on things still cool? Oh god I don't know)
In other news, you can get half off shirts today on Zazzle by clicking this link or using the code HALFOFFSHIRT. Me, I got another Hawkeye shirt, only this time on a wicking sports shirt so I can wear it hiking and not die in the heat. When I was marathoning, they told us to go out and definitely get a wicking shirt and never wear cotton so I did. I had never actually tried to do anything super stressful in Virginia heat in a cotton t-shirt until recently and omg. Yeah, don't do that. GIVE ME ALL OF THE ADVANCED FIBER TECHNOLOGY.
I'm also hoping that the sleeves are longer than the North Face wicking shirt I have because the arms don't cover enough of my armpit underneath my hiking pack and that's annoying.