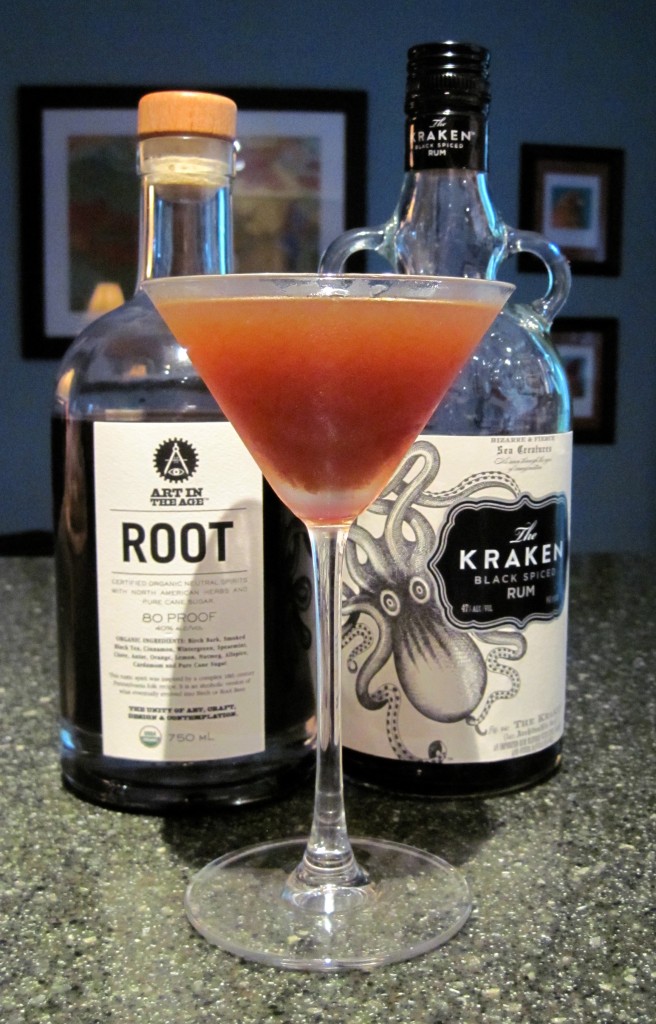 This is a very interesting liqueur. I've been eyeballing it for a couple of years, but the $30+ price tag in Virginia ABC stores was daunting for something I had never tried before. Thankfully for my tastebuds, this project has caused me to throw fiscal caution to the wind.
From the ROOT about page:
Here at Art in the Age, we thought it would be interesting and fun to turn back the clock and recreate a true pre-temperance alcoholic Root Tea. We've even made it certified organic, since back then, everything was organic. […] It is NOT Root Beer flavored vodka or a sickly sweet liqueur.
And I have to agree. This stuff smells like a good old fashioned rootbeer. Think IBC. However, the taste is quite surprising. It's not sweet at all and boy does the high alcohol content do a number on the tongue when sipped neat. I've tried it on the rocks and that was okay. I think because I was expecting the sweet fizz of soda from the smell, I found the flat dry taste to be really confusing.
Next I tried making a float out of it by adding club soda and a scoop of ice cream. This was a lot closer what I think I wanted because of the sweet from the ice cream. But it was still a bit not quite. I think this is why AITA recommends making floats by mixing ROOT with a rootbeer. However, I perused their recipe collection further and found the perfect cocktail.
Adapted slightly from ROOT's Grass Roots recipe
1 part ROOT
1 part lime juice
1 part maple syrup (the real stuff. None of this pancake syrup crap.)
1 part Kraken Rum

Combine all ingredients in a cocktail shaker. Add ice and shake. Strain into a chilled martini glass.
This does not mix up as a pretty drink, as you can see from the image. Perhaps it was the fact that I'm using bottle lime which is a bit hazy anyway, but that plus the two dark brown liquors makes for something that looks a bit like an unfiltered fresh cider.
This is the best new drink I've shook up yet. It's a wonderful balance of acid and sweet and all of the complicated flavors of the ROOT liqueur. For me, the wintergreen flavor becomes especially prominent which is awesome because I love wintergreen. I am planning on playing with creating a julep type of drink using ROOT and muddled wintergreen from my garden, but more on that another night. The only downside is that it's easy to drink fast, which isn't good considering the alcohol content. Be sure to pour responsibly, my friends.